Title of Papers: gMystic Experiencesh
Writer: Dohsan Kawahara








The writer categorizes mystic experiences simply into two
types;
Mystic Experience A
Mystic Experience B
Mystic Experience A conforms to gHealthy Mindednessh of
William James
Mystic Experience B conforms to gSick Soulh of William
James.

Varieties of religious experience derive from time-wise
order of A and B.

Accordingly, there are four types of religious experiences;

Types: Examples:
A only Walt Whitman Masaharu Taniguchi
A after B Ignatius de Loyola Nao Deguchi
B only Martin Luther Kenji Miyazawa(?)
B after A Teresa of Avila Shoju-Rohjin

The writer analyses four examples of gB after Ah type;
Kohshiroh Tamaki, Prof. Buddhism of Tokyo University
Takeshi Hayashi, Painter
Teresa of Avila, Spanish Mystic
Hakuin, Zen monk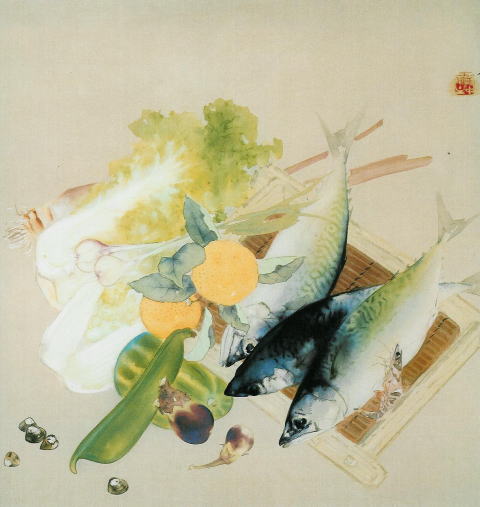 Photo:@Seihou Takeuchi "Gyosai"
@@@@@1930@ No.5839
@@@@@Staatliche Museen zu Berlin
Museum fuer Ostasiatische Kunst
Ikuo Hirayama
"Hizou Nihonbijutsutaikan 7"
Kodansha Ltd., 1992
@@@@@
The analysis of their gAh experiences leads us to a hypothesis that human spirit resembles quantum-kinetics model of hydrogen in its activity. This phenomenon may suggest that human spirit has a wave with wave length and oscillation.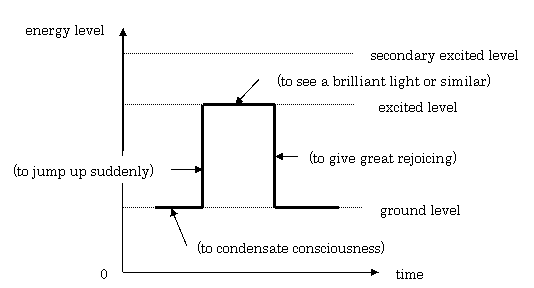 And the analysis of gBh experiences leads us to a completely reverse model in the negative field. Great squeezing pain comes in their heart, when it drops down to (-) excited level from
(-) ground level.

Total model of our soul can be obtained by composing gAh and gBh models, to be shown as follows;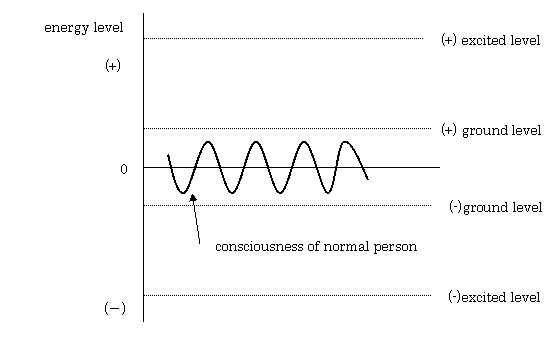 Conclusion:

1. Human being is unable to opt final target-point of gAh or gBh, before he goes into
mediation. You can not expect whichever you might arrive, A or B.
2. Religions can be categorized according to the final points they have arrived:
gAh or gA after Bh Catholics, Moslem-Shiah
gBh Protestant, Muhammad(Moslem-Sunni),
gBh after gAh Jesus Christ, Buddha
3. Democracy is based neither on gAh nor on gBh.
After having seen the devastating 30 years war between A and B, John Locke
has, in the year 1689, decided that human being should not adopt spiritual super-
phenomenon as whatsoever the basis of the value.